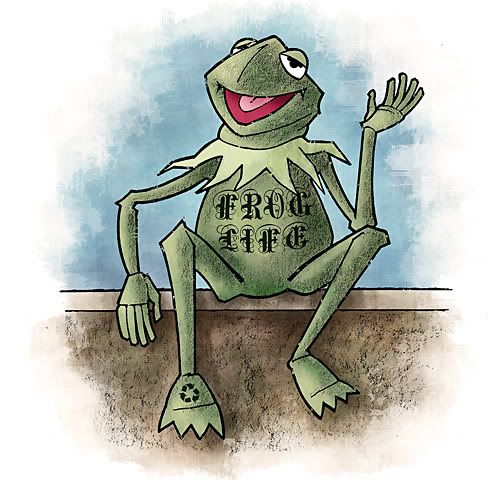 Illustration Friday's current theme of

green

couldn't have come at a more oppertune time. I've just finished a lengthy and arduous reading of Tim Flannery's alarming

The Weather Makers

, which at times made me equal parts angry, despondent and depressed. But I can take some comfort that at least the term "green" is back in the headlines these past few months, and looks to stay around with a heavy presence for some time.

Frogs and other species of amphibian are strong and early indicators that more-rapid-than-helpful climate change is occurring. They are especially susceptible to pollution and other environmental ebbs and flows, and as such their health and numbers are, as a whole, taking a harder hit than most critters you'll see kicking about on any given day.

Coupled with my sincere admiration of Jim Henson's Kermit The Frog, this hard fact helped direct my little tribute here to amphibians everywhere. So chins up, amphibians (if you have 'em – technically, I'm not sure) – some of us are doing our best to help your cause.

Sketched in pencil and then inked in pens of various thicknesses. Shaded with both pencil and charcoals and coloured in Photoshop. Total time, about four hours. Click here for a more detailed look.