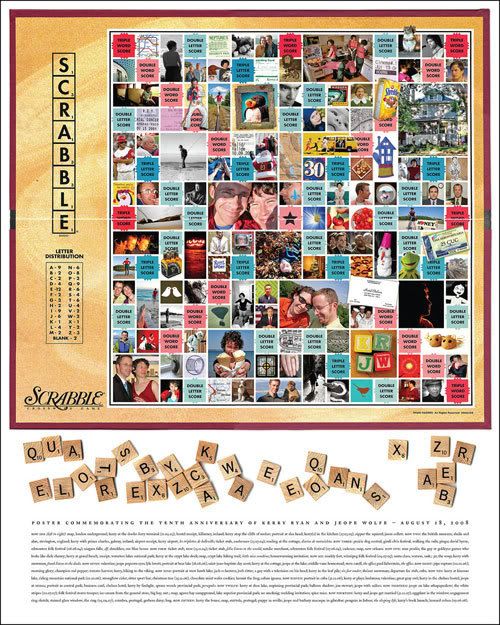 It's been awhile, but I'll admit that part of my self-imposed hiatus was a ruse. I needed a healthy chunk of time to create this poster, which I pieced together over the last couple of weeks in July in order to provide enough time for float-mounting in advance of our ten-year (non-marital) anniversary.
This poster was constructed as a companion piece to a similar one I made in the summer of 2003 for our fifth anniversary (and that poster was modeled after Charles S. Anderson's amazing

Seinfeld

tribute jobbie for

Entertainment Weekly

). The initial poster was built around a

New York Times

Sunday crossword, filling in squares with bits of photos, scans and memorabilia saved over the years. It was always my intent to make a second one, similarly built with a Scrabble board as base.
The board itself is a stitched composite of four flatbed scans, then a layer-happy Photoshop file was made to accommodate the 100-or-so images that fill in the blanks. I made five folders for the years covered and stuffed them with the choicest cuts, so to speak; photos, concert stubs, scans of cards, even maps. From there it was an exercise in patchwork; deciding which images go where, arranging an approximate chronological order of things, tidying up the grid. With my own personal digital camera era in full effect, the selection and scanning process was greatly reduced in comparison to the first poster.

The two posters now share headliner billing at the end of our dining room table. And in the end, we shared a nice little anniversary day.

You can click here and here, respectively, for much closer looks at the old and new poster.