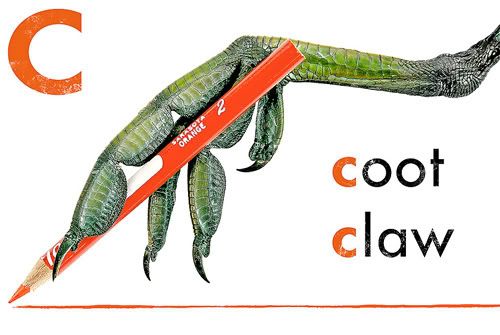 I'm a sane person. I swear. But I can't help it; a co-worker of mine finds a pair of severed American coot feet at work and immediately I get these ideas in my head (and no, there's not some psycho stalking our workplace – likely these feet were all that remained from an eagle or hawk kill). They're absolutely lizard-like, and I love it. I look at these feet and I don't picture a clumsy, big-footed chicken-like coot – instead I imagine an out-and-out nasty velociraptor. Holding a pencil.

So I took the feet home in a baggie and took photos on Saturday in the porch, just doing some texture studies against a white sheet of paper. And the toes were splayed just so to slip in one of Kerry's old Laurentien pencil crayons – Sarasota Orange for maximum contrast, but luckily also the stubbiest in the set – afterwards, declared a victim of the procedure and directed straight to the garbage can.

Then in Photoshop, I bleached out the white paper to make a basic white background, and set about with some minor touch-ups. The foot, originally a faded blue-green, was pumped to a more reptilian hue. The pencil crayon was close-cut for some cleanup work as well. A line of orange was added, as was an alphabet-book type treatment to tie the whole thing together. That was how I spent my weekend.

You click here for a closer look at some of the foot detail.