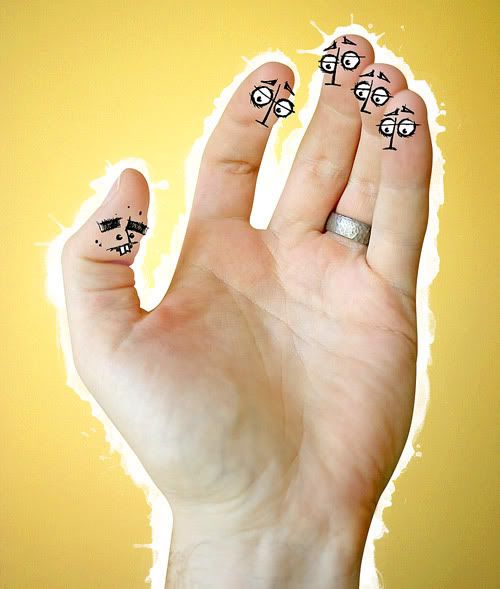 I love Illustration Friday's current theme of

clique

, in my mind one of their most creative keywords in weeks. Originally I was going to try and draw a caricature of my Grade 10 class photo – all gawky mullet and seven-hair moustache, a look that successfully shunned any and all area high school cliques – but an evening on the couch with Kerry, watching

Flight of the Conchords

, changed all that. My feet were on her lap, she was tugging on my big toe, and I realized how much of an oddball that fellow is (and by extension, how clique-y the remaining toes are). This image above (but with toes) popped into my head. But toes aren't quite as expressive as fingers (and in my case, hardly photogenic), so I opted for a hand instead. And from there – as you can see – it was an amazingly simple concept to produce. The only special skill involved was matching up my facial pen doodles to the original hand photo.

You can click here, for a slightly larger view.