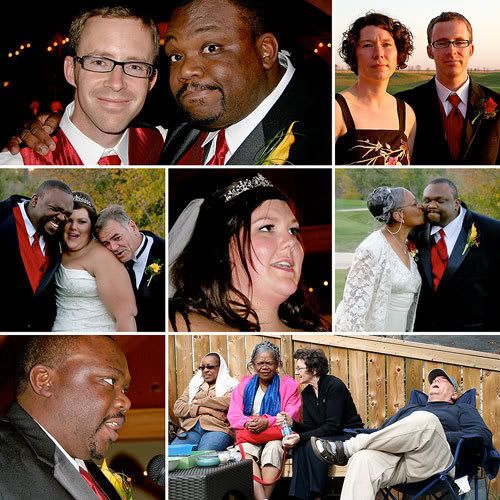 Top row

(left to right)

: Kerry snaps Al and I before we finally split for the evening; fellow groomsman Steve captures Kerry and I at the magic hour.

Middle row

(left to right)

: the happy couple, plus father; Sarah gives thanks; Al gets a peck from mom.

Bottom row

(left to right)

: Al, next up to bat, gives an emotional thanks of his own; Sarah's dad steals a nap at his afternoon-after-party.

My oldest friend Allan (aka el negro magnifico) married his amazing fiancée Sarah this past weekend, on what very well may have been the city's sunniest, finest October day in recent memory. And I was fortunate enough to join him for almost every step of the way/day, as first-time tuxedo-wearer

*

and choked-up member of their wedding party. It was an all-around sweet occasion.

Al and I go way, way back. Upon arrival in Winnipeg from Ontario in 1982 all big-headed and funny-named, he was one of my first friends in Grade 2. He played Team Africa during Olympic-themed recess foursquare matches. He swiped the diary of my Grade 6 crush to find out if she liked me back (conclusion: nebulous). I yelled at Mr. Lawler to quit picking on him in a high school chemistry class. He inspired me to try my hand at journalism in college, and in turn I inspired and aided in his Great Tackle of graphic design. His long-standing site was the inspiration for this blog, even.

Sarah and Al met about a half-year before Kerry and I began dating, and their match was a huge inspiration. And it's so nice to see, a decade later, the both of us have it all figured out.



*

Not actually. I also sported an all-white number at a high-school fashion show.