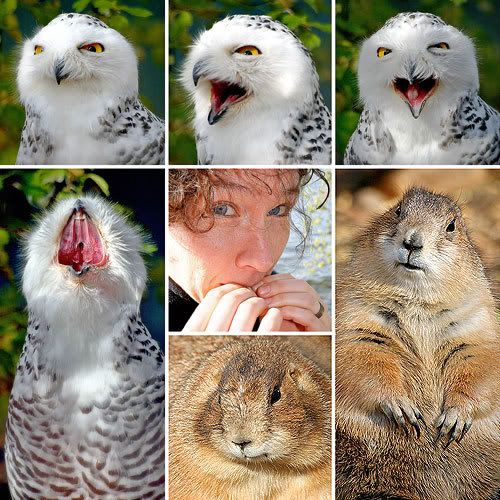 Above:

four stages of snowy owl stink-eye, two gut-heavy prairie dogs and one Kerry, practicing her birch-bark biting on the Hunt Lake hiking trail.

The weekend previous was salvation. Fall here is sometimes mercilessly brief, and following a most miserable Thanksgiving weekend it looked bleak for lovers of the season. But Big Weather tossed us in Manitoba a life preserver last weekend and we made good use of it, squeezing in a day of hiking on our favourite trail in the Whiteshell and a trip to the zoo to
fulfill my need to see the owls at least once a year.
The Whiteshell was in fine form, even if almost all the leaves had fallen. The park was quiet, virtually empty of critters (the sole highlight was a scavenging red fox that circled our weenie-fire in the evening). And Owl Row did not disappoint either, though one snowy was so perplexing we ran out of time to see almost anything else, barring some extraordinarily obese prairie dogs. But this owl, hopefully she is OK; despite making comical expressions and interesting photos, her stretch-and-yawn act every 15-20 seconds made me believe something is not alright with this poor thing.

Closer looks at a few of these shots can currently be had, o'er on Flickr.