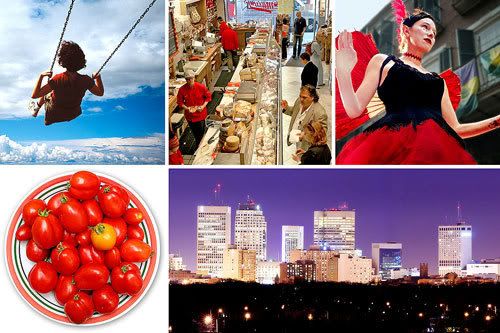 As promised, here are some accounts of Flickr image requests that were unscrupulous, crassly commercial or rubbed me the wrong way, either eventually or right off the bat.



The ask:

"I am working on Mazda customer magazines,
Zoom-Zoom
. We have a section for people to submit their own groovy photos, I think your "Swing High"

(above, top left)

one will be perfect for our Zoom Zoom moments. I hope you can get in touch with me and let me know you are up for this."



The response/outcome:

I own a Honda. Get bent.




The ask:

"I am writing to let you know that one of your photos

(above, top center)

... has been short-listed for inclusion in the fourth edition of our Schmap
New York Guide
, to be published early December 2007."



The background:

Schmap runs a successful series of online and download-able travel/tourism 'guides' for a multitude of cities around the world, and have a fairly honest reputation with Flickr users. However, they are still a commercial operation, and fair is fair: if you're making money, the folks you glean your photos from should be making money. Yes, even if it's a pittance.



The response/outcome:

I'm a tiny bit sorry, but get bent.




The ask:

"My name is ______, working at LIZ Editions, Paris, France.
I have the pleasure to announce that your photograph

(above, top right)
has been selected to be published in this photographic book

Red Inspiration

!
This book ... brings together 300 of the most pertinent photos illustrating this powerful color.
At the end of the book, there is a Photographer Directory that lists the web address where you can be contacted – to consult your biography or any information concerning your photo (legend, anecdotes, copyright).
Edited by LIZ Editions, the LIZ-books (a total of 96 works, including

Red Inspiration

) present elite photos taken by those who show a particular passion for the art of photography as well as young professionals."



The background:

a search on Flickr's help forum details many folks' experiences with this same request. Turns out this outfit sells a whole line of colour-themed photography books on the backs of the most naïve, desperate and attention-hungry Flickr users, and sells them for upwards of $40 a copy through retailers like Amazon.

They're turning profits, plain and simple, and not passing it on to photographers who make these books even possible. That's sh*tty business practice. Lowest of the low.


The response/outcome:

Get be

nt. Big time.


The ask:

"My name's _____ and I'm an intern at NowPublic.com. Just to let you know, NowPublic is running a news story on

American Idol

and your photo(s)

(above, bottom left)

would be an excellent addition. If you're interested in sharing it, please follow the links below and feel free to add your own comment as well. Looking forward to seeing your work on the site!"



The background:

NowPublic is a "crowd-sourced, participatory news network that mobilizes an army of reporters to cover the events that define our world" – essentially citizen journalism. However, since crowd-sourcing is currently a blight in my chosen industry, I don't really wish to endorse it in other fields, either.



The response/outcome:

Get bent.




The ask:

"I am designing a website for Destination Winnipeg, intended to attract people to Winnipeg.
I wanted to see whether I could use some of your pictures

(above, bottom right)

... w
ould you charge anything, or would credit be enough?"



The response:

this fellow was asking about three photos in particular, and I offered an educated answer as to how much they would cost for leasing purposes, based partially on test searches through online stock services for similar shots/usages and a bit of advice from friend and local super-pro Ian McCausland (who informed me of DW's shady practice of sniffing about Flickr for their photo needs). Their response to my response? Nothing. Silence.



The outcome:

Get bent, despite the promising start.