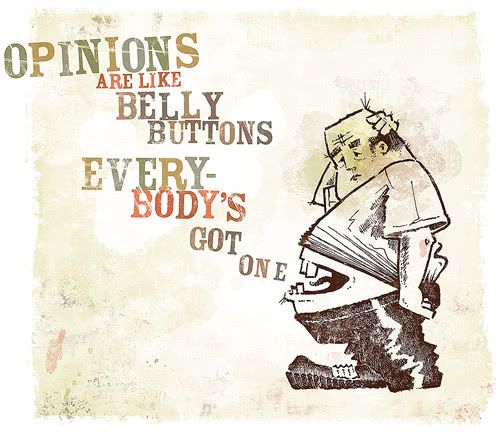 ... everybody's got one. That's the inspiration behind my submission for Illustration Friday's fun theme of
opinion
.
And really, there's not a whole lot to say after that.
I went with this variation after doodling a few concepts while watching Patrick Roy Night on
Hockey Night In Canada
(after a pre-psychotic
Theo Fleury
, Roy was my favourite player growing up). Perhaps he served as a subconscious inspiration, as Mr. Roy let fly more than a few of his opinions over his career.
After scanning, I cleaned up a few errant sketchy bits, removed a shticky speech bubble, and then added the subtle background and typography (Rosewood Fill is the face; overused, but I still enjoy it). There's plenty of ink detail, lost in this view, that can be
seen larger here
on Flickr.