Aaaaaand introducing in the blue corner… she's a writer and a fighter… a poet who can throw it… dropping bombs and verse that puts opponents in a hearse… ­ rising up from the mean streets of Westwood, it's Kerry "Electrifyin" Ryan, aka Clobber! Saurus!! Rex!!!
Saturday night saw the culmination of two hard months of training, all in preparation of Kerry's first-ever match, held during Pan-Am Boxing Club's "white collar boxing" fundraiser. She's been with the club and attending their rigourous workouts for over a year, but when the opportunity arose earlier this winter to hone skills towards an actual match, she signed up.
All of her work went into a three-by-two, six-minute match that stayed incredibly close. In the end however, by the skin of a tie-breaking technicality, she was declared the champ. And a retired champ, too (more likely than not), boasting an unblemished career record of one win and zero losses.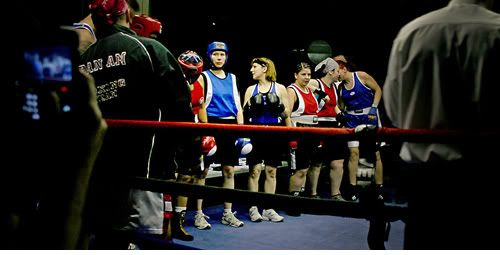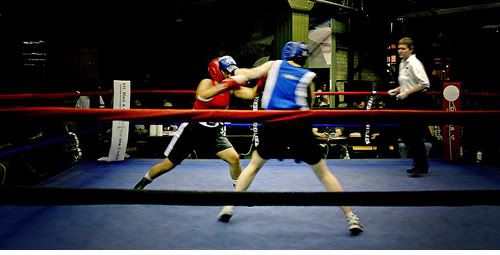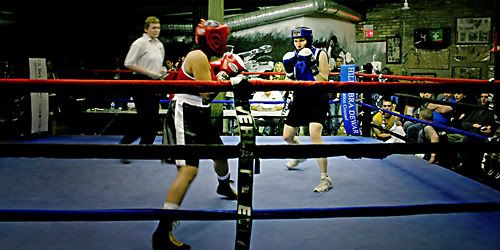 These shots were taken in a dank basement club bordering on the stereotypical, and using flash carried a penalty of mass pummeling by staff. So what you see here is what you get, though there's a better flow and 10-image story being told in my official Fight Night Flickr slideshow.