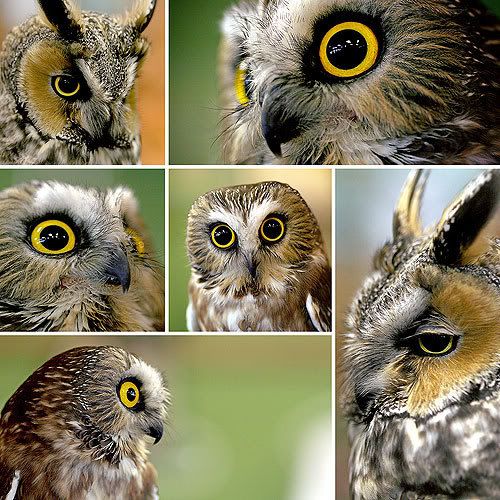 Last week's grouchiness melted immediately at the sight of Pepper, on display at a local birdfeed and supply store as part of a fundraiser for a local owl-related charity.

On a hot tip from friend Steph, Kerry, my dad and I headed to see some hot live owls, originally slated to include a long-eared owl and a burrowing owl, which I was very excited to see up close (rare as they are). Instead of the burrowing owl though, there was Pepper – a one-year-old northern saw-whet owl

(Aegolius acadicus)

.

I have never seen a saw-whet owl – common enough as they are here in the wild – though I've heard plenty during my annual volunteer stint as part of a local springtime nocturnal owl survey. But they happen to be my favourite bird. In the whole. Wide. World. As such, Pepper merely had to bat his big Bat-Boy eyes and everything seemed suddenly alright again.

No disrespect to Nemo

(above, top left and bottom right)

, a long-eared owl also in attendance – you were OK, too. But please view some close-ups of Pepper here, and here.