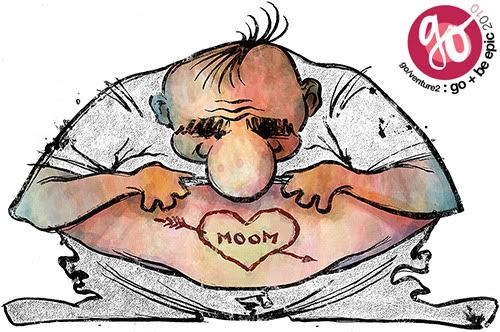 My friend Kal Barteski – she of
Love Life
fame – invited me to join herself and a few others in a spontaneous creative bout this past week. Operating in the vein of Illustration Friday and other creative of-the-week themed concepts, the
GO/venture
is far more open to interpretation, offering participants the option of providing output ranging from sketches to photos to written word submissions. The theme of the edition I took part in was
permanent
. I was initially excited at coupling a piece with Illustration Friday's theme of
clumsy
– but clumsiness prevailed in the end; turns out that was last week's theme.
This piece was drawn quickly over the weekend, then dressed in Photoshop on Monday evening as part of Creative Night. You can
click here
, to view the illustration larger,
and here
, to see the Flickr-based GO/venture home base, stuffed with other folks' entries covering a whole wadge of past themes.