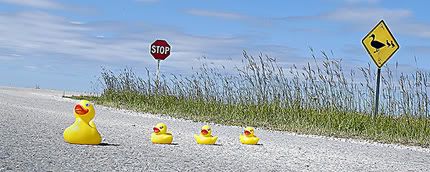 Those interested in photography ought to check out PhotoFortnight, the summer brainchild of fellow

HOW

forum participants Sean O'Dwyer and Joe Blend. Their site offers photographers of all skill level an opportunity to send in submissions based on the site's bi-weekly theme. Once all submissions have been received, they can be voted on by viewers. Results are then posted roughly one week later. But unlike the massively popular Photo Friday, only pictures snapped within a two-week window are accepted. PhotoFortnight also offers themes that call for a little extra thinkwork, and even a touch of design sense. Case in point, the latest theme:

yellow

.
My concept here is pretty plain-Jane, using a unique road sign just outside of where I work. But the image that was in my head differed sharply from my best final output, so I spent some extra time mulling over a yellow-based still-life session the next day with objects from around my house

(see below)

. In the end though, I submitted the original idea. It's goofy.
So after the long weekend, head over to PhotoFortnight and vote. And be kind to my pic!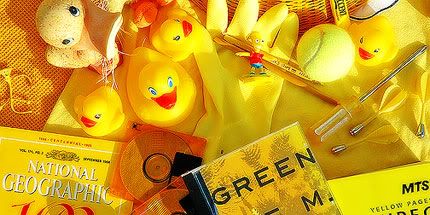 A slightly Photoshop-enhanced outtake from the second shoot. This one shows the

grand pile of stuff

that I gathered together (sad that I forgot to bring my happy-face frisbee). R.E.M.'s

Green

is my favourite item in the shot. Also shown is one of only two modern-day issues of

National Geographic

without a photo on the cover.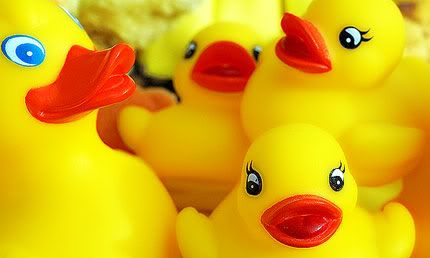 And in this one, the soon-to-be-famous duckies are

ready for their close-up

. For now though, it's back to their spot atop the sill above the toilet tank.