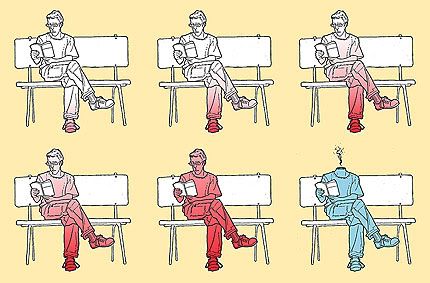 It's Christmas-time, so I hope this little piece of imagery doesn't come off as too macabre. But really, go and peruse the lengthy list of Illustration Friday submissions for the word

surprise

– then come back here and ask yourself,

is there really anything more surprising in life than sitting on a bench, reading a book … and then spontaneously combusting?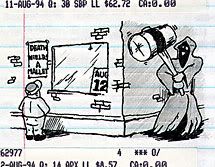 Just this weekend I completed Top Secret Project X and decided I'd let my hair down with this bit of fun. Actually, first I was going to revisit a doodle I made over a decade ago while working at Broadway Pharmacy in downtown Winnipeg. That place was absolutely full of surprises; they'd come through the door daily, destitute, delirious, drunk and (once or twice) dripping in blood. My friend Allan Lorde and I worked there for a number of years as teenagers (and then some), and we'd doodle the dates in the daily prescription copy ledgers the place kept. Sometimes they'd get pretty twisted, but so long as they included a date, nobody seemed to mind. I drew this one (

above left

; the poster reads

death wields a mallet

) – on August 12, 1994 – and thought it could use a proper update job as my submission for I-Friday's 'surprise'. But then I figured I'd just include it here along with coming up with something original for the first time in awhile.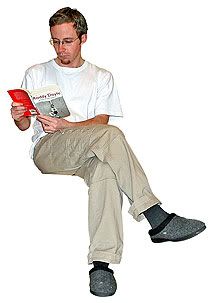 So here it is: a guy sitting on a bench, loosely modeled after myself (

right

). Reading a book (that's Roddy Doyle's

Paddy Clarke Ha Ha Ha

, my favourite). Waiting for the bus. And then:

foom

!
I used pencil for the loose sketch based from the photo, and then drew the final lines with my precious Pigma Microns. I only sketched it once, and duplicated it five times in Photoshop to get this final result – obviously with some minor amendments to the final bit of the sequence.
Be sure to click here for a better look than I can offer here on the homepage.