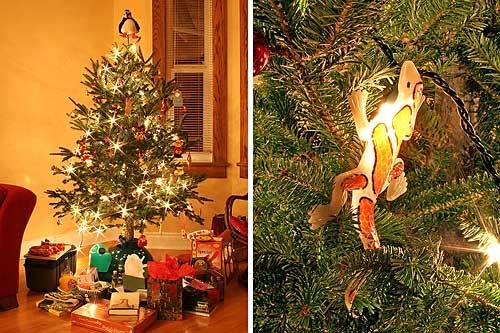 This is our first very own Christmas tree.

There are many more like it, but this one is ours. And it's not really a spruce, but a balsam fir we picked up at StupidStore (Canuck shop-o-plex SuperStore, for the American reading masses) for twenty bucks last week. It thawed in our basement overnight, and the next day I sawed a slice off the trunk and fit it into our oversized tree stand. We borrowed leftover ornaments from Kerry's parents. We used a string of white lights, some covered with plastic lizards (

above right

) from an old strand of lights from Kerry's childhood bedroom, and popped a puffin hand puppet on top as our angel. It's adorable, and I'll never forget it. Size-wise, it pales in comparison to the long-needled monster trees my mom got when I was growing up (mebbe I was just smaller?). They were beautiful in their own right, but a sense of dread always came with them because it was my job to pick up the

thousands

of dropped needles. Mom wouldn't let me use the vacuum. She said the needles would clog the hose. And I defy that logic to this day.
The two moments I was most excited about when we bought our house was handing out candy to kids at Halloween and putting up a Christmas tree. I feel this year has been that much sweeter having these two moments now tucked in it.
Side note:

I'm in the process of making changes to this site (as you can see). I've switched to a new background template to wrap up my first year of blogging, to better enable myself to be able to customize it further in the future. So please bear with me as I feel my way through a dimwitted spell of tinkering with web design (web design

lite

, really) – and if anything appears funny then by all means let me know, especially those using PCs. I already know it will wreak minor havoc on archived posts, because I've altered the width of the main content column so I can post slightly larger images. But still, lemme know.