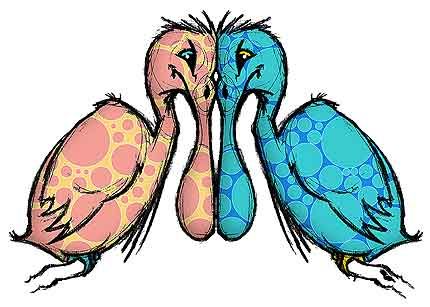 The second-last Illustration Friday theme of the year is appropriately enough,

imagine

– and as such, nearly every thing imaginable qualifies, like these two chaps imagined from the depths of my brain. They say opposites attract, but more often than not opposites also repel – and these two obviously are not taking the season's good cheer to heart. This was a quick sketch of one bird done in pencil. After scanning, I duplicated the bird, flip-flopped it and then brought the two beak-to-beak. The fill is just some Photoshop goofiness, also inverted for the duplicate bird. Click here for a closer look.
Before the year draws to a close and everybody toddles off to their own corner of the world, I'd like to take this opportunity to wish one and all a fabulous, merry, happy Christmas. Enjoy what time you have off, and take the time to chill and appreciate the good things that are happening all around. Personally, my family is scattering itself across the country – across the New World, actually – to gatherings in Newfoundland, Ontario, Saskatchewan and even Nicaragua (my mom, bless her, avoiding all things freezing and exploring Central America until May). Kerry's amazing family unit is taking me under its wings again, keeping things nice and Christmassy – and for that I am extremely grateful.
And to the wonderfully supportive online clans of visitors from both Illustration Friday and the Howieverse, have a safe and smooth set of holidays. Wherever you may be, and whoever you're with, enjoy.
Bonus:

below is a Christmas e-greeting of my company's art department I made for us to send out to all sorts. The top-secret photo shoot was done a couple of weeks ago. That's me in the top right of the group, but all the guys have wigs so don't nobody go thinkin' this is how I present myself every day. Tinting, saturation, type-work (the font is Adobe's Bauhaus) and two out of three moustaches are the result of some added Photoshop magic.
Merry Christmas!