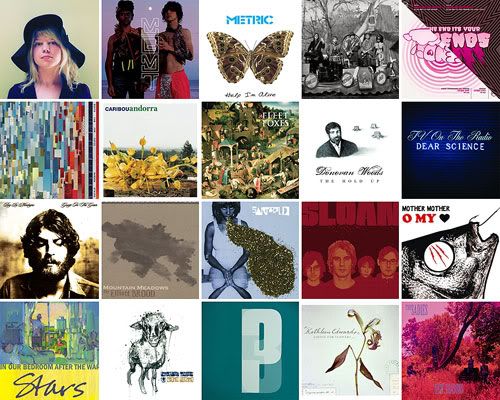 If anything happened for me in '08, it was increased exposure to more music. As I've mentioned in the past, I'm no
connoisseur
... yet. But I make up for it, and more, by being extremely finnicky. And that's where I become at odds with other music lovers, in that I'm rarely happy enough with albums from start to finish to warrant nabbing them whole, and instead have fast become a fan of –

gasp

– the single. I often find myself rummaging through iTunes these days like a scavenger, picking off sensational songs here and there after sampling albums that say much less to me. Not to say it doesn't happen for me though; I broke a personal record this year for buying albums in a year I'm hearing critics and experts dub less than stellar. I've also noticed a trend in my buying habits in that albums I do get tend to drift towards material I'll listen to together with Kerry, while singles and part-albums I amass veer more for just myself.

Here's my top 10 albums and singles from 2008. Some may be late-2007 crossovers, and the singles list does not include songs from the albums list.

Asking for Flowers
– Kathleen Edwards
Fleet Foxes
– Fleet Foxes
Consolers of the Lonely
– The Raconteurs


New Seasons

– The Sadies
Narrow Stairs
– Death Cab For Cutie
Mountain Meadows
– Elliott Brood
Gossip in the Grain
– Ray LaMontagne
Oh My Darling
– Basia Bulat
The Hold Up
– Donovan Woods
Andorra
– Caribou
"The Rip" – Portishead,
Third

"Halfway Home" – TV On The Radio,
Dear Science
"Help I'm Alive" – Metric (single)
"Lights Out" – Santogold,

Santogold
"In the End It's Your Friends" – Shout Out Out Out Out (single)
"Bitches in Tokyo" – Stars,
In Our Bedroom After the War
"Time to Pretend" – MGMT,

Oracular Spectacular
"Time Machine" – Sweatshop Union,
Water Street
"Body of Years" – Mother Mother,
Oh My Heart
"Believe In Me" – Sloan,
Parallel Play