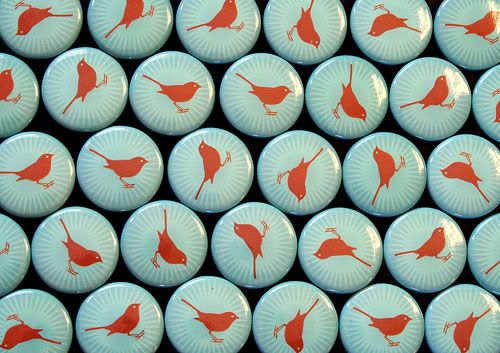 2008 marked the fourth time I participated in the Society of Graphic Designers of Canada (GDC) Manitoba chapter's annual pre-Christmas button swap. Previously I crafted buttonized versions of Kerry's belly button (2005), Rocket Robin Hood (2006), my own avatar (2007), the building-block brand of our New Year's Eve wedding (2007) – and now this year, the little bird that graced the cover of Kerry's first published book of poetry,

The Sleeping Life

. Blame it on the weather, the economy or what-have-you, but the '08 crop of buttons was a touch smaller than usual – though the submissions were no less stellar.

Drop me a line here if you have eyes for these fellas; there's still quite a few left (less so of previous years' buttons, but lemme know if you're into them as well and perhaps I can comply). Or we can swap. Novel idea that, actually – swap buttons from a button swap.