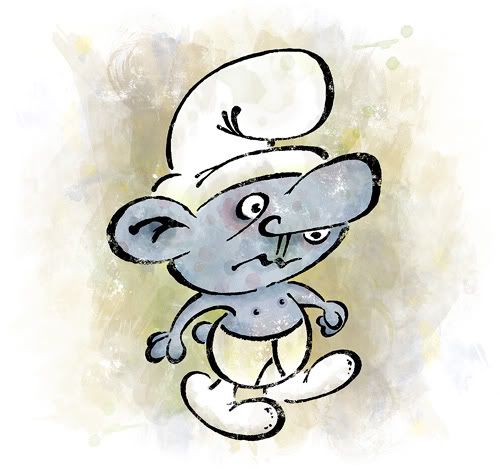 I had no ideas for Illustration Friday's theme of

pale

, and I wasn't set on doing much of anything in the next little while as I prep my spare time to do some work for the local chapter of the GDC.
But I was putting away clothes and caught a glimpse of the
Smurfs All Star Show
LP I won in the fall during a quiz game at Cinemathèque's second cereal-and-cartoons marathon. I pictured a portrait of a smurf matched with its closest-matching Pantone swatch – "Smurf blue" as it were – and also paler varieties with their own companion swatches. Kind of neat, if not a bit gimmicky.
I tried instead to make my own take on a sickly-looking smurf (a caricature of a cartoon, harder than it sounds), using "pale" in terms of illness. The absolute palest, sickliest, smurfliest smurf-smurfing smurf I could come up with – in a fairly short time span.
Currently my Smurf remains nameless, so if you have a suggestion now's the time to pipe up.