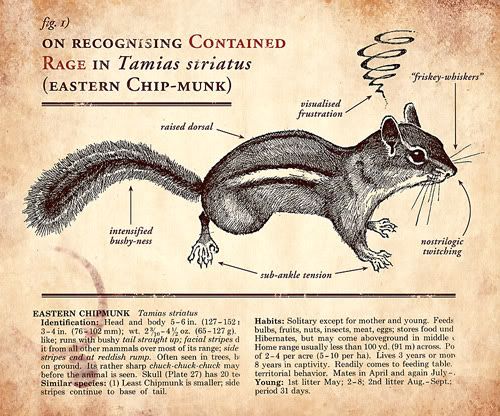 Probably one of the more premier examples of first drawing something, then working backwards to fit Illustration Friday's theme-of-the-week (
contained
) – though not entirely the case to begin with. My initial idea was to sketch a run-of-the-mill bunny rabbit, duplicate it and place a squiggly spiral

(see above)

over one to illustrate the difference between a content rabbit and one displaying contained rage. But then I opted for a chipmunk. And then, it veered in this slightly different direction.

Drawn with a .005 Pigma Micron pen (using a field guide for reference), then layered in Photoshop with paper texture, text additions from Illustrator and scanned/clipped book copy. Click here for a much better look at the detail (recommended!).