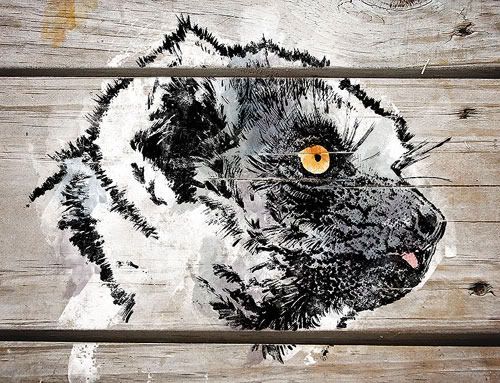 Illustration Friday's theme of
worn
made me think of a lemur. Yes, that's right.
Not just any lemur, but one I photographed during a spring 2007 visit to the local zoo with my zoom lens in tow. I was there to test the lens out on my favourite Big Cage of Snowy Owls and came upon this
tired-looking fellow
. Granted, I'm not zoological enough to differentiate a healthy, virile lemur from a grizzled old one, but the mannerisms of this guy led me to believe he was pretty aged – and well-worn.
I sketched this lemur based from the photo, using an equally well-worn Pigma brush pen. I'd been using this pen tons lately and it's quite low on ink now – but this gives me a texture I love when I dab the nib on the page (an effect best seen in the muzzle area). The drying pen was also beneficial for the fur, providing delicacy that a healthy, virile brush pen could not achieve.
To follow the theme even moreso, I used an image of weathered wood planks to superimpose the illustration over, placing down Photoshop layers of white paint and muted splashes of colour. I then used a variety of custom brushes to whittle away the spaces between the planks and bring out a few cracks in the surface in an attempt to mimic painting the piece directly on wood.

A closer look at the detail can be had, here.