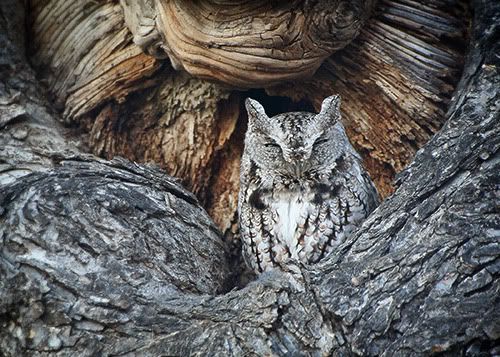 For the past couple of weeks I have been scoping out a certain tree in the neighbourhood, as it was rumoured to be harbouring a screech owl. Friends of Kerry's had spotted it on more than one occasion in a notch of a grizzled tree about two kilometres from our house, but were reluctant to disclose the exact location.
Owl hogs
.
Luckily, I was able to recognize the tree from the photo they showed. We found it during our frosty walk a couple of weekends ago, but the owl wasn't included. Two more visits by bike this past weekend were equally fruitless, though the ride – my first of the season – was muddy, filthy and tons of fun. Yesterday though, I struck paydirt, and the owl and I had a decent 10-minute shoot before direct sunlight disappeared. It seemed half-asleep, but tracked me with a mean stinkeye
(below)
as I navigated around with the camera.
I am hoping this is the little fellow's home and not just a hangout; it looks more than suitable. It would be great if I could track its progress over the summer.