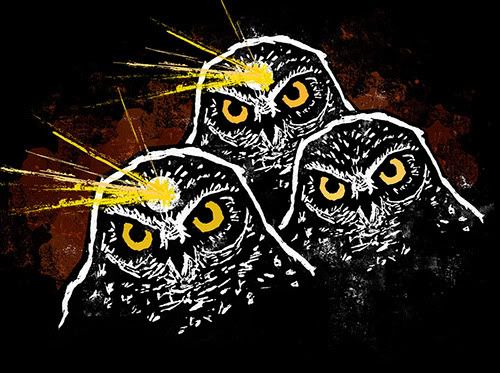 Illustration Friday's current theme of
subterranean
– very specific, which I like – allows an opportunity to display wares from a weekend spree of woodcut-based monoprints.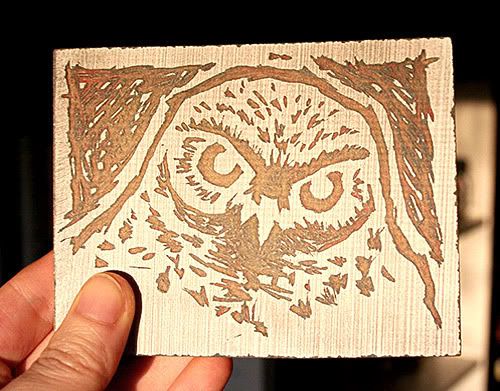 In January, a friend offered me a couple of small blocks of particle-board and some cutting tools to try my hand at carving, something I hadn't really done since high school (on linoleum, I think we all did this in high school). After a few sessions of trial and error, I carved myself a nice little cut of a burrowing owl
(above)
.
Actual printing went down on Sunday; about a dozen or so decent copies
(above)
run off on a small but effective homemade press at my friend's place. These I am quite proud of.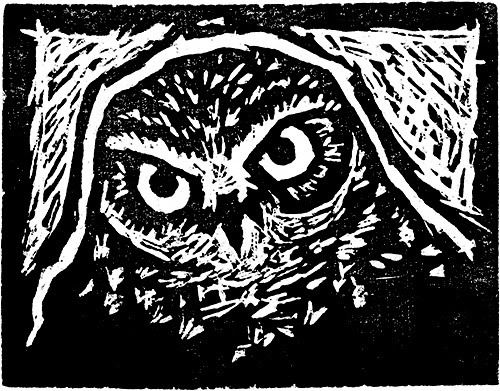 For Illustration Friday's purposes I scanned one of the black-ink prints
(above)
to further the piece digitally, though I hoped to retain the print's sense of hand-craftedness. Burrowing owls are unique among the owl set for nesting in abandoned prairie-dog dens, among other subterranean abodes, and the stark, confined nature of these prints suited an idea I had in mind. Where the concept – and this write-up – takes an odd turn is in the piece's source of inspiration. Subterranean, for some reason or another, made me recall the mining sequence about midway through
Dance
,
a two-minute animated National Film Board vignette that used to fill space on CBC when I was a kid (any Canadian worth his toque
should recognize this tune
).
Click here
, to view the illustration larger (and on black).