I really wanted to get back to my weekly creations, but so much has been going on over the past month or so – festivals, moving, unpacking, weekend trips – that it's been tough. And to get back in the swing of things was harder than I thought it would be. Case in point, this week's

Illustration Friday

theme: the word

aging

. I've been chewing on it all week. Originally I wanted to draw pen-and-ink caricatures of the morning mall-walkers at my carpool pickup spot. I was gonna draw them during a recent long car trip to Minneapolis, but the ambition was never there, and when I finally sat down to try it I realized my memory of these folks was hazier than I thought. I then considered sketching a scene from our new "aging" house. Two tries; it wasn't happening. Finally, I noticed the photo of my niece on the fridge.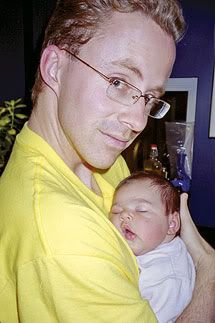 She's

totally

aging.
My niece –

Cadence Wolfe Daya

– lives in rural Nova Scotia with my dentist sister and her dentist partner. She was born last September. Kerry and I went to visit just before Halloween when she was about six weeks old. Cadence and I had a couple of beautiful photo shoots (see below). Since then, I've watched and listened to her grow through photos in the mail and phone calls. Most recently I received a shot of her sitting in the grass with a ball cap. She looks so different from the baby I met in the fall. And the next time I'll likely see them is next summer, when she'll be a walking, talking wonder-kid. Canada's an enormous place, and it's during times like this when the distance can hurt.
This sketch was done over the last couple of days during moments of free time. It's small, honest and simple. I took a quick spin through Photoshop to clean up a few errors.



Right:

Kerry's shot of me and Cadence, October 26, 2004.

Below:

snapshot of Cadence from my black-and-white photo shoot, October 28, 2004.