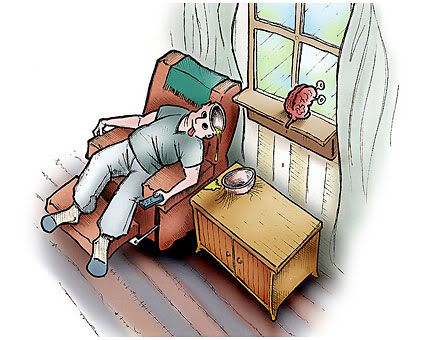 The word

empty

is a far-reaching term, elastic enough to cover just about any illustration concept on the planet. Which is healthy. Case in point, my drawing here. This was a discarded sketch from about a month ago when the posted Illustration Friday theme was

nourishment

. I was basing this piece on a premise of "nourishment for the brain", but then grew weary of it and drew a sandwich instead (click on the "Draw!" button and select

nourishment

to see).
But it also represents this week's theme in its concept of

empty-headedness

. Thus, behold the couch potato, so buried in his inertness that his brain has split in search of alternative entertainment out the window. I picked up the half-finished pencil rendering from a month ago and completed it in pen. It was then scanned and opened into Photoshop for colouring. The angle and style of the sketch were inspired by comic strip artist Wiley Miller, the genius behind the daily one-panel series

Non Sequitur

– and a man who adores his perspective drawing.

Be sure to click here for a larger view of the illustration.