[image missing]

A quickie. This week

Illustration Friday

offers the theme word

reflection

, which will undoubtedly score a hit as the word's malleability is pretty inviting. As such, I took the word for a spin on its most basic route, that being the notion that art is a reflection of an artist's reality.
I have not yet perused the stack of submissions to the site, but I foresee quite a few of images being reflected and transposed. The image above however, is based directly on a very real photograph I took while huffing along the Hunt Lake Hiking Trail with Kerry in Whiteshell Provincial Park. The trail, a favourite of Kerry and myself, takes seasoned hikers by several beautiful vistas and across the most rugged terrain Manitoba can offer (which isn't saying too much). We head there in the fall every year. We've been practically nose-to-beak with loons, eagles and grouse, seen brilliant displays of yellow-leaved aspens and bright red sumac bushes and once caught a rare glimpse of a river otter.
The bottom half of the image was selected and run through a variety of Photoshop filters, curves, brushes and saturation adjustments. Posted below is the original photograph, taken early on a calm Saturday morning in the fall of 2003, during one of our hikes. Also posted (at bottom) is another, solely photographic take on the same idea, using an abstract shot of the Gateway Arch in St. Louis, taken along the way to our spring fling at Mardi Gras.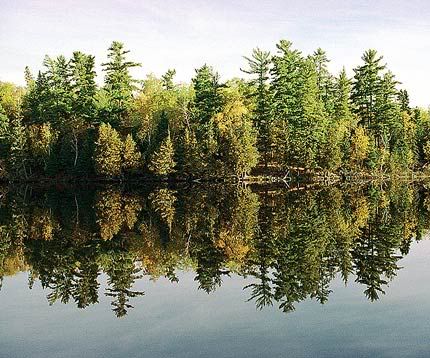 Side note:

I may well be the millionth designer to realize, but the word

reflection

almost reflects itself when rotated 180 degrees. That's the concept behind the word form here. Some kerning, employing a geometric font (Helvetica Neue 85 Black) – substituting the lowercase R with a custom-chopped lowercase N – and slicing the word along the center of the word's x-height was all it took.