Here it is.

Project X

– which I craftily offered a sneak peek of with my Illustration Friday submission for 'blue' (click here to jog memory) – is a book that Kerry and I built as a Christmas present for my niece Cadence. All of 13 months old, Cadence may need a few years under her baby belt until she's ready to appreciate it, but we couldn't wait. An autumn brainchild of Kerry's,

Frank Listens To The Ducks

is a kid's story based on an anecdote my dad told me when I was little.
I won't retell the whole story, but I'll offer up this Coles Notes version: Frank thinks the ducks in a nearby park call his name (

"Frank! Frank!"

). On one of his many walks, Frank witnesses all manner of weird people in the park doing peculiar things: A man dressed in pink, a woman who calls "You're welcome" to herself, a girl pulling leaves off a tree, a grumbling lady, a jogger that winks non-stop. Frank hears the ducks calling and pays a visit, only to find them crowded around somebody else – a man named Hank, who explains that ducks quack different things to different people:

Pink!

to the pink man,

thanks!

to the shouting woman,

yank!

to the girl,

crank!

to the grouch,

wink!

to the jogger. Frank learns that quacking ducks are a shared commodity – but still thinks these people are weirdos.
These illustrations are in the sequence in which they appear in the book. All were sketched in late November and early December, following extensive sit-down time with

Communication Arts

illustration annuals for inspiration (after initial doodles failed badly). Sketches were done in pencil, then inked over with Pigma Microns of varying thicknesses. Because I haven't drawn enough to have a style of my own yet, patches of patterning were added using a ruler to keep a sense of visual continuity throughout. Continuity was also aided by using a common background theme of basic colours, type inserted into each image, and a faux-watercolour texture built in Photoshop. The duckies were referenced from slides at work.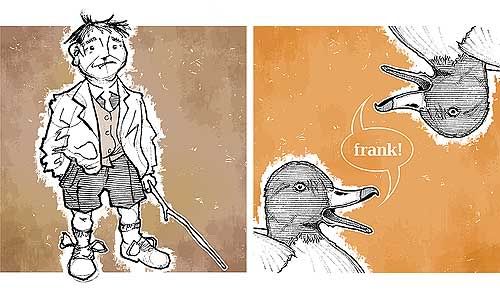 The first two illustrations (

above

) are of Frank, and a pair of redhead ducks calling his name. The font used with these duckies is Candida. You can click here to get a better look at this pair.
This pairing (

above

) features the Pink Man and the shouting woman. Pink Man's font is Aachen; the woman's is Ex Ponto. I like drawing fat men in suits. Click here for a closer look.
The girl pulling leaves off a branch and the winking jogger (

above

) were harder. Children are hard to draw; I've rarely done it. The jogger's face was based from a caricature of Geraldo Rivera. His font is a downloaded freebie called Rocky Mountain Spotted Fever; the girl's typeface is another freebie called Sketchbook. Click here for a closer look.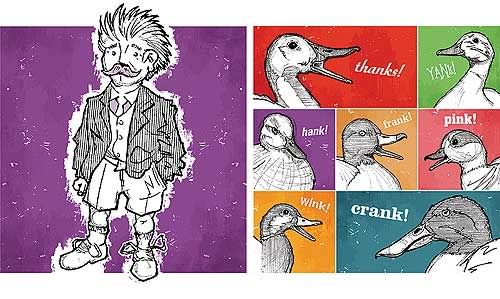 This final set shows Hank and a collage of ducks (

above

) voicing different words. Hank is a duplicate of the Frank drawing, only mirrored and moustached (done on purpose, not laziness). Clicky here for a closer look.
Factoring in a slow work pace, procrastination, printing, cutting and binding (black plastic coils inserted by local office supply joint), the work lasted about four weeks from the time Kerry gave me the copy to the point where it was ready to mail. Copies were also made for my dad and for Kerry's niece and nephew. I have a PDF of the book in viewer's spreads available for anyone who wants a look. Drop me an email (j_wolfe at ducks dot ca) and I'll happily send one to ya.