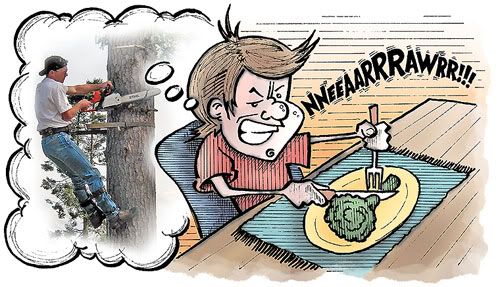 A quickie.
There was recent talk on the

HOW

forums that I inhabit, about the word

flavour

. Fellow forum haunt Von Glitschka was asking people about the foods they abhorred as children for his submission to Illustration Friday – and natch, some of the same words got repeated over and over: Brussels sprouts, liver, mushy peas.

Broccoli

was mentioned specifically as a terror for kids, but that's a known fact by now. Even the President has been openly vocal about it.
The word got me thinking though – about the flavours I hated and liked as a kid. I hated fried onions (still do). I hated the giant two-ton sack of puffed wheat cereal my mom would buy. I hated rice pudding and raisins in baking. When I was very little I hated pizza, and would opt for spaghetti whenever the family went out for pizza. Nobody seemed to mind.
But I liked all those despised foods mentioned above: Brussels sprouts, liver (chicken livers, especially), mushy peas, casseroles ... even broccoli. I ate my broccoli so fervently I pretended I was cutting felled trees with a chainsaw. And sometimes I even made the noises for it.
Side note:

I tried out the Pigma brush pen I bought awhile back for the first time. It was a little clumsy working with it, but the thicks and thins it provides are kind of cool. I might rework the quickie colour-work added to this one; I'm not that tickled about it. I may change it down the line.