I was half-hoping that the most recent Illustration Friday theme would correlate with at least one of the illustrations from my niece's Christmas book I posted last week – that way I could present it as my submission while I got to work developing my ideas for the next

HOWieZine

(due at the end of January). And if the theme wasn't relevant, I was going to take an I-F sabbatical to toil on the zine.
In the end, neither situation unfolded. The theme-o-the-week –

sea

– couldn't have been more uncooperative. But the concept of 'sea' was also too inspirational to avoid. I'm a big fan of the sea, even though I'm 2,000 kilometers from the nearest saltwater. I didn't see the ocean until I was 14, on vacation in Costa Rica. And I didn't see the ocean in my own country until 1999, to visit my mom and sister who had both moved to Nova Scotia.
Many of my favourite places I've been to in the world involve the ocean – Cape Breton Island in Nova Scotia and Gros Morne National Park in Newfoundland come readily to mind. Excursions to Dingle, the Aran Islands and the Cliffs of Moher still recall amazing memories when Kerry and I traveled to Ireland in 2003.
But my fondest memory of "the sea" is a day trip from my mom's place to Kejimkujik National Park in 2000. Unfortunately, almost the entire coastline of Nova Scotia has been developed in some capacity – and this pristine, tucked-away corner is an obvious exception. Here we walked along an unspoiled beach on a warm September day, the only people for miles. The beach was crowded though, with hundreds of foraging sandpipers on their fall migration – and this image has stuck with me ever since.
Side note:

I had initially started an illustration this weekend with watercolour and ink, but on Saturday night I cut my hand on a busted wine glass and opted for this more finger-friendly approach, using a combination of Freehand and Photoshop.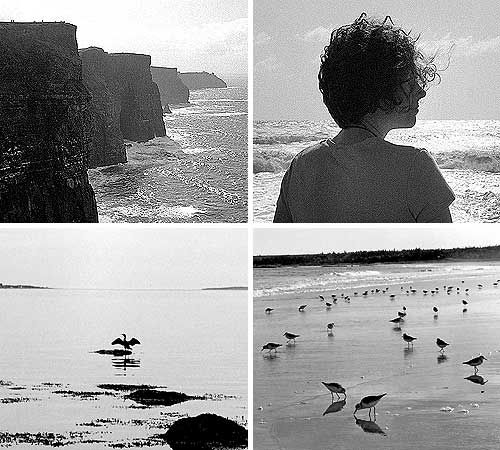 Above:

some of my favourite sea photos (

clockwise from top right

): Cliffs of Moher, Ireland – Sept. 2003; Kerry at the Doolin ferry terminal, Ireland – Sept. 2003; sandpipers, Kejimkujik National Park – Sept. 2000; cormorant, East River, Nova Scotia – August 1999.