At long last, the latest edition of the
HOWieZine
is en route to its contributors. It seems like ages since I actually pieced these pages together; back in a time when I was younger, it was still nuts-cold outside and I had a full-out soul patch that annoyed Kerry to no end.
The latest (and greatest)
HOWieZine
theme is
superheroes
– a concept that never ceases to inspire the illustrator or designer within (or kid, for that matter). I have to admit right now though that growing up I was never into the comic-book-and-superhero subculture. But I was aware of the basics. And I was determined to pay homage to the theme of superheroes in its purest sense, at least for one page. I set out to draw
Superman
for the first time. That turned out to be the inspiration behind my first page, and this one-panel comic is what I came up with (surrounded by some of my all-time favourites).
My somewhat scrawny Superman was drawn in pen and coloured in Photoshop. I added an artificial halftone pattern at the very end to merge better with the surrounding strips, and the font I used was
Fanboy Hardcore
. A bigger version of this page can be seen
here
.
Unfortunately for me at the time, all my brainpower and time went into this first page, and with the "deadline" looming I hadn't given myself much for the second page. But this led to a much freer concept for the back-side, so behold!
Eiderman
!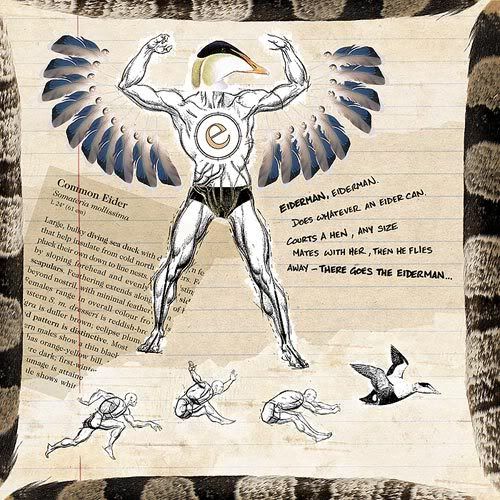 Eiderman came about during a department meeting. A co-worker friend and I both share an affinity for the classic
Spider-Man
cartoon series, and when discussing a company eider study in Newfoundland somebody unintentionally mentioned the words "eider man", I muttered "eiderman" to him in a gruff
Rhino
voice and we lost it.
Out of time constraints, Eiderman was done up collage-style. The figure drawings are from an old how-to-draw book and the
common eider
head was nabbed from a field guide. Feathers were scanned; the 'wings' are a pattern scanned from a feather off a mallard's speculum and the frame is made from owl feathers I found as a kid. The background is a bit of Photoshop hoopty-doo and the lyrics (sing 'em loud!) were hand-written and scanned.
Click here
for a closer look.
It's true about eiders, too – and of most ducks: once the dirty deed is done, males pretty much disappear from the whole parenting scene. In a sense then, Eiderman is the superhero of deadbeat dads everywhere.