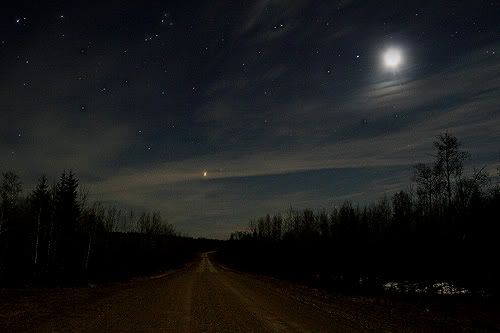 Early April means it's time for the annual

nocturnal owl survey

, a spring ritual my friend Jason and I have done now for five years as part of a Manitoba Conservation study. Survey volunteers are able to choose any number of predetermined ten-mile routes across the province, and from the get-go we've always selected the most rugged and remote one possible: a dark, often hair-raising, ends-of-the-earth stretch of logging road leading from just north of Pine Falls into the gut of Nopiming Provincial Park – a beautiful wilderness I'd visit more often if it was passable for most vehicles. Washouts, washboarded gravel roads and recent overland flooding have made that a truth.
The trip always begins with a rest at the still-frozen Shoe Lake after the two-and-a-half hour drive from the city. We usually dawdle here while it gets dark (the survey begins a half-hour past sundown), and then head to the start of the route a few kilometers away. The route is broken down into one-mile stations with a two-minute listen at each stop. This year was ideal; no wind, a bright moon, temperature about zero. And it paid off, with no less than 14 owls (two long-eared, two barred, two boreal and eight saw-whet owls) heard over 20 stations – our previous high being four. Also heard in the dark were the wing-thumping courtships of ruffed grouse, the overhead whistling of flying ducks, one unknown ground-pawing creature in the bushes and other odd noises that sounded like empty mustard bottles being squeezed.
I love the owl survey. It's always the first chance of the year I get to really disappear from the city and winter, and out in the park and along the routes we're often literally the only people for miles. I love the quiet and the near-creepiness of the deep boreal woods at night, and that it only takes two hours in these parts to truly "get lost".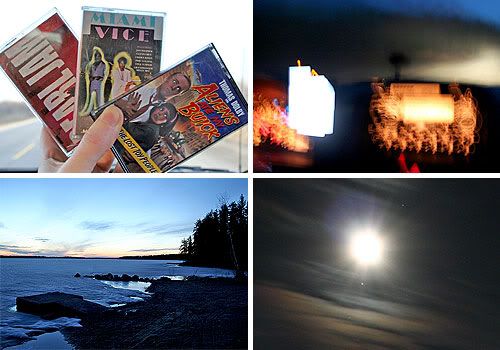 top:

a lonely stretch of logging road north of Pine Falls, nearing midnight.

above

(clockwise from top left)

: a busted CD player meant we were back to the classics; Jason's new GPS unit shines on a particularily bumpy part of the road; the almost-full moon; the still-frozen Shoe Lake at sunset.