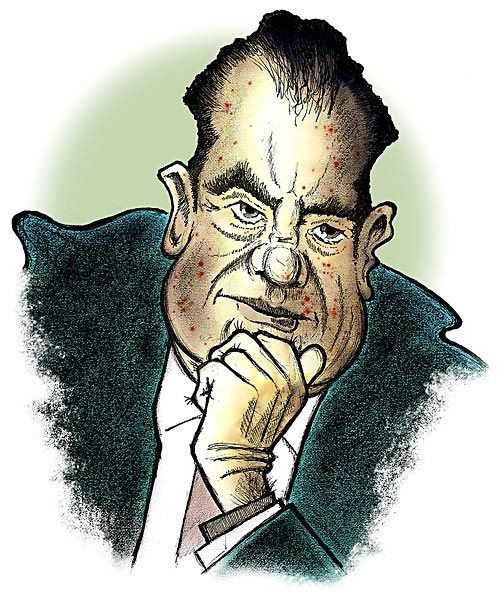 I like Illustration Friday's new theme,

spotted

. I can't put my finger on why; perhaps it's because it's not a word anyone can take and interpret in the multitudes of ways like the site's usual offerings. And when I learned the theme, my brain turned to word-association mode, and within a fraction of a second I had an idea:

spotted dick

.

Quit snickering.

But then I had to figure out what to do with it. And it only took a few seconds more for an image – the one you see here – to pop into my head. Then I prayed my hand could follow through with the picture my brain was set on; a caricature of Richard Nixon peppered with measles. For that I searched for pictures of Nixon that I could base my sketch from. A historical art buff might be able to tell that this caricature is based heavily from the painting of Nixon by Norman Rockwell that hangs in the National Portrait Gallery.
My sketch began with pencil, then was inked over in pens of varying thicknesses and finally touched up with some quick shading (using a soft pencil for the skin tones and a black conté stick for the suit jacket and final touches on the face). Colour work, done in Photoshop, was done after erasing smudges and any wayward lines digitally. Sketching took two-and-a-half hours; colour and touchups, another two hours.
A larger image of the pre-Photoshop sketchwork can be seen here. It almost seemed a shame (to me) to add the colour and spots because I enjoy the original drawing so much – but then again, if it wasn't for I-F's theme it wouldn't have happened in the first place. Let me know what you think.