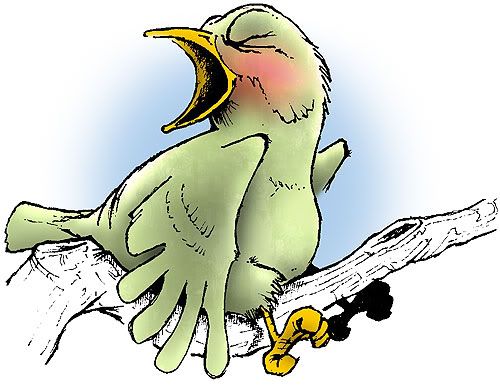 I promise that after this, I'll lay off the birds - but Illustration Friday dammit, sends out a theme of

spring

and what am I supposed to do? Around these parts, spring doesn't start until the droning exhausts of city plows and the styrofoam crunch of snow underfoot gets replaced by the sound of certain birds not heard from in months. First crows and gulls, then Canada
geese, followed by robins, killdeers, ducks and the rest. I heard my first robin this morning outside my bedroom window, and the first killdeer at work this afternoon. The marsh is frozen here at work but that hasn't stopped a thousand geese (or so) from showing up already and beetling each other for the best territory. It's reaffirming to know that it's finally tolerable enough outside for creatures other than parka-clad humans and the occasional chickadee.

This was a quick exercise in making final art directly from a doodle. To be honest, this was an incomplete doodle from a couple of years ago, reborn into this piece. The rough pencil sketch was strengthened, then scanned directly and cleaned up, to a point, where some colour could be added ... albeit quickly, because it's late. And it's spring, and warmer things are on my slowly thawing mind.