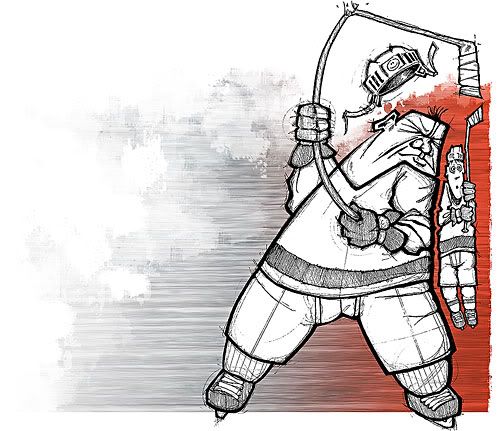 I up and tackled a concept I attempted about a month ago – an idea I had for Illustration Friday's theme of 'sacrifice' (as in
sacrificing the body
, a hockey terminology). Back in July I had much more on the brain and the concept defeated me pretty soundly. So I scrapped the sketch and decided to give things a rest.
But, glutton for punishment that I am, I didn't let the idea go entirely and decided to reattempt the illustration for I-F's current them of
play
. In Canada – and select northern outposts of the United States – play comes often in the guise of bloody carnage otherwise known as hockey. Myself, I'm also a fan, but I mostly keep to a more sedate version carried out in gyms and parking lots – avoiding the fate of the fellow pictured here (let's call him Lew, for the sake of giving him a name).
This illustration was done up as a pencil sketch on Saturday in a new hardcover sketchbook I bought last week, then inked the following day – with special attention given to working on thicks and thins. These portions of the process combined took about three hours. Once a colour and background scheme was thought of, the time spent in Photoshop realizing it took roughly another hour or so, all told.
A closer look at some of the detail can be
seen here
. Let me know what you think.