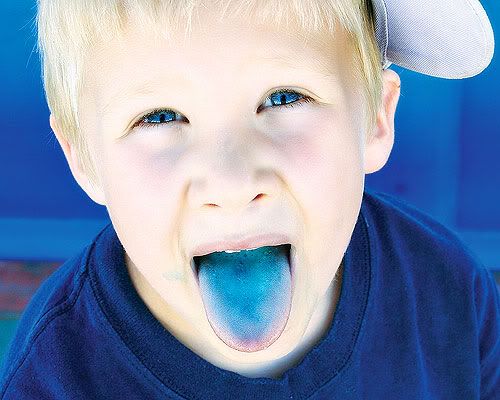 This summertime snapshot of Kerry's nephew in Gimli was a happy accident on two fronts. Firstly, the photo itself was taken for reasons other than its outstanding 'blue-ness'; Duncan here had just finished his bubblegum-flavoured ice-cream cone and requested that I take a picture of his tongue, and of course I obliged. But in all honesty, I gave no thought to the fact he was wearing a blue shirt, that the ship tied to the dock behind him was awash in a new blue coat of paint, not even that he had blue eyes. My only goal was to get him out of the direct sunlight because the shadows were too harsh. But hey, accidents happen; and here I am the proud owner of one cool photo.
Secondly, the current theme running at PhotoFortnight was – appropriately enough –

blue

. So this photo also doubles as my no-thought-behind-it-whatsoever submission for the site's voters. The photo beat out this image below, an extreme closeup of the blossoming-like-mad morning glory vine in our backyard.