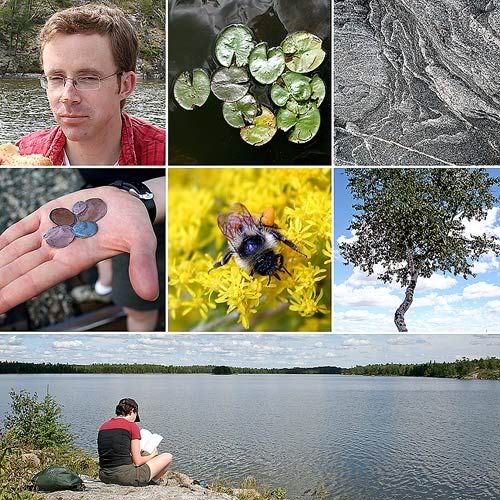 Top row

(left to right)

: Peanut butter on my nose; Bear Lake lily pads; granite rock patterns.

Middle row

(left to right)

: a Bear Lake trail ritual – leaving some coins on the CN main line; a busy bumblebee; a lone crooked birch tree.

Bottom row

: Kerry reading at Bear Lake.
In honour of Photo Friday's word-o-the-week –

friend

– I present this montage of images taken last Friday when I took the day off to join my best friend on a hike in the Whiteshell. Kerry and I tested out the Bear Lake hiking trail, the first time I have been on this relatively short path since I was a little kid. The six-kilometer return trip to the trail's namesake lake crosses the CN main rail line before crossing an overgrown meadow and loosely following a series of parallel granite outcrops.
We met a grand total of three people along the way, curious for a perfect August afternoon. And largely because of that, the day came with a truly great feeling – not one of merely tacking on an extra day to a weekend, but instead the sense that every other single person in the world was toiling away at work someplace. The ride home only validated this sentiment, as we drove west to the city against an endless stream of cars heading in the opposite direction – full of people racing to the park, looking to get the most of their two-day weekends.
Friday marked eight years since Kerry and I have been together.