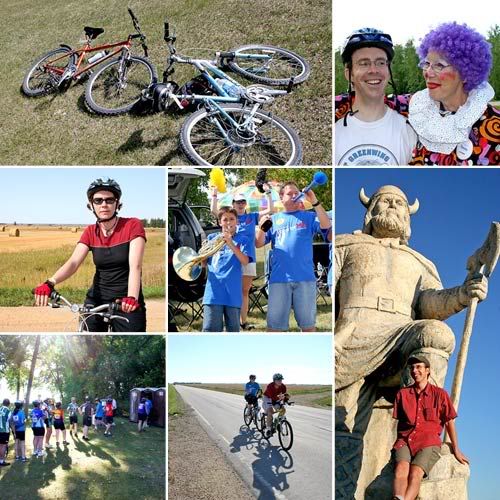 Top row

(left to right)

: this is how we ride; me and "Pinks", the Rest Stop #2 clown.

Middle row

(left to right)

: Kerry in the country; Saturday afternoon welcoming committee; me and the Gimli Viking.

Bottom row

(left to right)

: nature calls on Sunday morning; the open road.

This past weekend's MS Society "Biking to the Viking" fundraising event was an eye-opener for me in terms of what I thought I could accomplish on a bicycle. Not that the ride was any back-breaking endeavour, but my previous high for kilometers in a single ride topped out at about 60, on either of my commutes home from work. But the bike tour, which covers 170 kilometers of unrolling Manitoba countryside over two days, had Kerry and I just a little concerned in advance about uncontrollable variables like wind, rain and gluteal endurance. I'm proud to say it went without a hitch (some rain, defying even that morning's forecast, did occur for the first 20 minutes or so of the ride and from then on it was calm, sunny and comfortable).
On the first day, traveling to our destination of Gimli, everything was new; stuff to look at, muscles to test out, a pace to set. Rest stops spaced intermittently along the route kept us well-fed with snacks (even if the promise of so many cookies failed to pan out). By the midway point of the day we were defying the pace we anticipated pedaling at, much faster than on the streets of the city. Bikers were jovial. Highway traffic remained unthreatening.
The return trip on Sunday looked to be the harder part – and it was, but not by much. Any soreness from Saturday was virtually nonexistent, but returned slowly over the course of the day – particularly in the you-know-what, and particularly for me, the you-know-wheres. Even the slight west wind put me down a notch, and after nearly seven hours of total ride time over the weekend, any semblance of conversation withered away and I spent time with my tired brain. I resorted to quietly singing to myself the only two songs I know by heart,

With Or Without You

and

Rocky Raccoon

, as Kerry rode a few meters ahead. And by mid-afternoon Sunday, after an exhausting final leg, it was over.
A good time, and a good feeling of accomplishment.