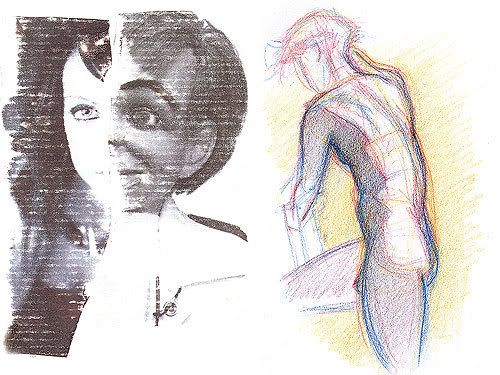 A couple of weeks ago I ponied up and spent a day with industry chums celebrating the 50th anniversary of the Society of Graphic Designers of Canada (GDC). The Manitoba chapter's efforts included spending a day largely getting acquainted ­ and reacquainted ­ with old/new school art techniques on a 'creativity circuit', including printmaking, cutting graffiti stencils, creating Polaroid-esque photo transfers and (

eep!

) life drawing. The day was capped off with peeks at the Graphex '06 and GDC Fellows poster exhibits, and an inspiring discussion with GDC co-founder/designer/illustrator Frank Newfeld (most notably of

Alligator Pie

and

Garbage Delight

fame).
The group I was in was taken straight into the studio for a morning life-drawing session with the U of M's Derek Brueckner. Like most of the designers in attendance, I hadn't drawn the human figure from direct observation in years, so I was a bit nervous. Behold my output though (
above right
): I say not bad for my first model sketch since the end of the Grunge era!
From there we headed to a photographer
Ian McCausland
's chemically-induced session of photo-collaging and trying our hand at a photo transfer technique using a nasty bit o' business called Xylene. Which was fun, in a return-to-kindergarten craft table kind of way. Only with Xylene. Check it (
above left
, ­ images lovably supplied by Ian).
My attempt at mastering the art of creating a stencil at the
Graffiti Gallery
was thwarted by my foolishness in creating one that was too complex for the time involved (I tried to make the head of
Rocket Robin Hood
that I showed here last year), so I played photographer and instead documented the others' fine work. And lastly we spent some time with the
Manitoba Printmakers Association
, getting our hands, and clothes, supa-dirty with some basic printmaking techniques. Shown above is my roughshod, busy attempt at using
just about every tool they had there to play with.