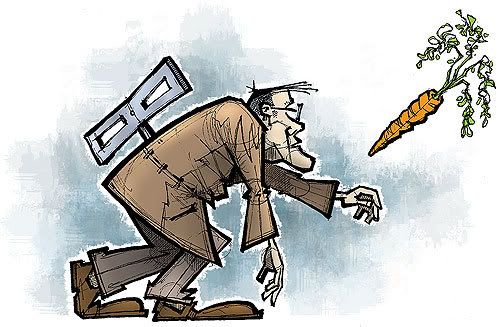 I drew this somewhat quick sketch for Illustration Friday's current theme of

wind

. I liked the sneakiness of the chosen theme; I'm certain that a good majority of contributors took the theme in a wind-as-in-skinned direction. For some reason, I read the word and first recognized it as wind (as in "kind").
I've been feeling groggy lately, hopefully not battling something harmful. It kind of makes me feel a bit like this sagging chap, in need of a good wind-up to get the energy flow going again. And if I could just reach out and nab that yummy, healthy carrot I think I'd be set. But for the time being, you get a little vignette of this rundown fellow. Special thanks to Kerry, modeling for me to get that right hand (it was a too-tough angle to use my own). I inked it while on the lookout for Halloween kids coming up the front steps. Click here for a closer look at the detail.