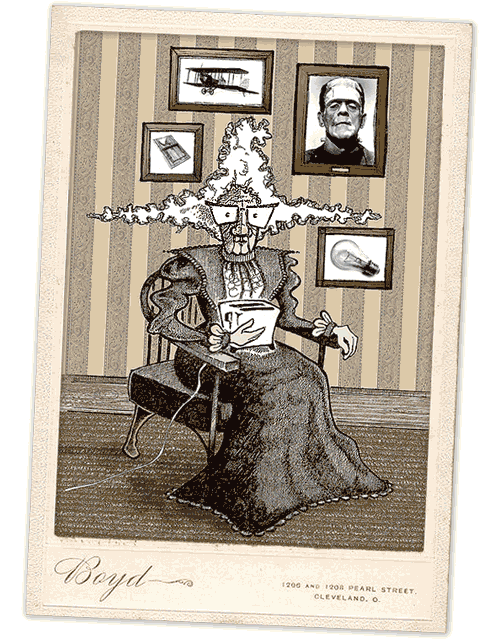 I've never had a concept in mind so quickly for Illustration Friday then I did this week; their current theme of

invention

brought a vision to my head in a matter of seconds. Stuck at work though, I made a quick doodle of it in a notepad (

below left

) so I wouldn't forget it on the weekend when I had more time. This old lady is my interpretation of the Mother of Invention (as in "Necessity Is..."). And though my original vision was of a cartoony,

Far Side

-esque comic strip panel, I ended up with something much more complex. I usually intend to do something simple; I just can't seem to help it.
I found some source material through a few Google image searches: a few turn-of-the-century photo portraits for the pose and fashion sense (

below right

), and obviously the objects in the wall-mounted frames, which I left photographic because they kind of look neater that way. I sketched on Sunday – all in all about two hours or so – and used photos of various textures to fill in the background, like wallpaper and carpet samples and some wood-grain for the baseboard.
Be sure to click here for a better look at the whole deal (the web just doesn't do some illustrations justice).