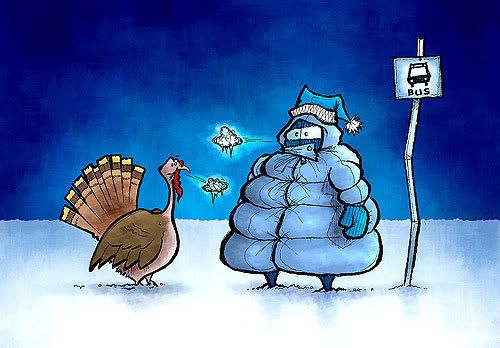 Illustration Friday's current Yankee-leaning theme of

Thanksgiving

gave me
little inspiration until I figured I could perhaps Canadianize it. This, the
Holiday of Holidays south of the border, is seen by some for its crass
commercialism, special Thursday NFL matchups, bacon wrapped,
chicken-stuffed, duck-stuffed turkeys ... and for millions of other turkeys,
straight-up instant death. Now I love me a turkey as much as the next guy,
but in Canada we get a drumstick up on the southern competition by
celebrating Thanksgiving a month and a half earlier. So for any turkeys
currently on the lam from the proverbial chopping block, I know some primo
spots to cross the border without tipping off the fuzz. All you've got to
worry about here is the snow.

Sketched in pen with reference material for the bird, and coloured in Photoshop. Click here for a closer look at the final artwork.