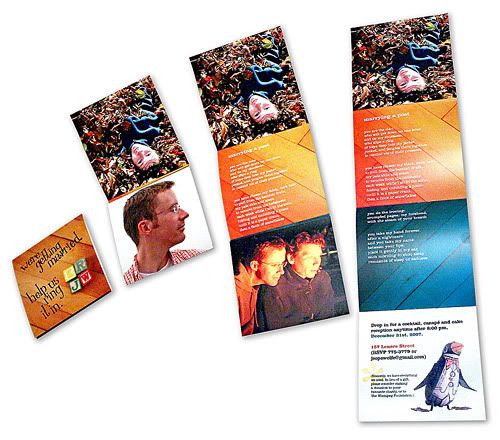 Realizing I kind of snuck it through in a September vacation post, I should do so now: Kerry and I are getting married. We picked up the license yesterday (Jebus help me if Vital Statistics discovers that I don't know my dad's middle name(s) or guessed where my mom was born).
But all this meant invitations were in order. More of a formality than anything, since we already procured 13 of the 14 ceremony attendees (at I-do time, mom may be anyplace between Colombia and Argentina), but we are creatives and must oblige expectations.
I wish I could put a name to the chap who bemoaned designing his own wedding invites in the font-geek documentary

Helvetica

­ but he was bang on: I was, for lack of a better word, intimidated. In the end though, I relied on a
treatment that was primarily photographic, relying on the scads of photos
accrued over the years (we've been together since 1998) ­ and built a four
panel roll-fold creation that tells a loose story as it unfurls, including
photos, some basic info and a poem-by-Kerry original.
One funny: we realized late that nowhere on the piece does it actually say
our names.

Pah

. You all know who we are.

Sorry about the grainy shot – we don't get too much daylight up here anymore. If you want to see a crisp version, let me know (I'm not about to advertise all our info all high-rez n' stuff here).