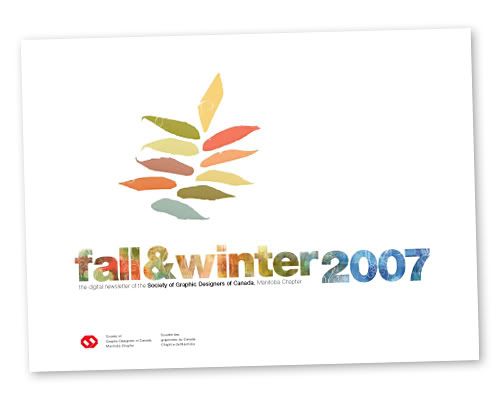 Probably the most time-consuming spare-time vacuum over the past few weeks has been the editing and design of my inaugural edition of the Society of Graphic Designers of Canada's (GDC) Manitoba chapter electronic newsletter. Since roughly this time last year, I've been serving as the communications chair for the Manitoba chapter – a fairly unassuming duty – but had also been delaying work on the (approximately) semi-annual newsletter, one of my chief responsibilities. But a recent glut of local design happenings and story ideas helped pave the way nicely for the project to once again take flight. With its official release this afternoon, I am proud to report that I am finished with my

Reason I Don't Blog As Much

series.

As for the newsletter, I remain grateful to all of my story interviewees, contributors and fellow chapter members for assisting in its path to fruition – particularly to local designers and photographers on Flickr that came forward to be a part of my feature article. I invite anyone reading this to visit the GDC Manitoba homepage to download themselves a copy.

Top:

the newsletter's cover, made in Photoshop with custom brushes built from scanned sumac leaves.

Above:

a grab from the Flickr article, featuring pears shot by talented local designer-photog Tamara Paetkau.