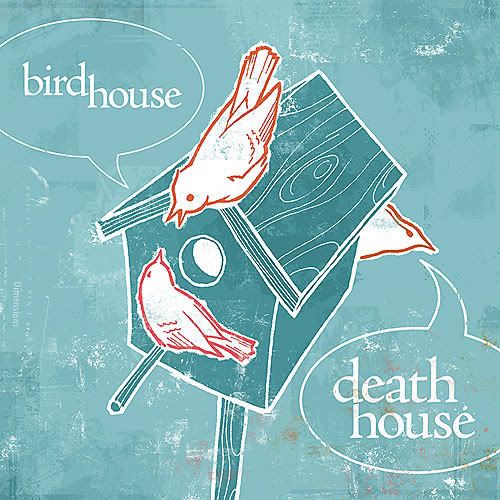 Bird nut that I am, the birds were top-of-mind when I thought of
Illustration Friday's current theme of

superstition

for a moment. Pick up a
copy of Graeme Gibson's

The Bedside Book of Birds

and you'll be spending
hours discovering the historic worldwide fixation mankind has with the ties
between birds, omens and superstition. And one of the most curious,
untraceable and far-reaching omens out there is of "the bird in the house".
At first, I was set to take this concept in a Gary Larson-esque twist, with
one bird warning another of the perils it faces in entering the birdhouse; a
more straight-up cartoon. It was the designer in me that abandoned that path
for what you see here.
This is a good example of not giving up on a doodle. This illustration
began in pencil on the back of some scrap paper, as I fleshed out the idea ­
in particular, the perspective ­ over lunch at work one day. When I opened
my sketchbook to create a crisper, more finite version, I found myself
unable to duplicate the doodle's vision. So I inked the scrap paper pencil
job and erased surrounding notes and scribbles in Photoshop. From there a palette was selected and colouring and texturing were completed on the computer.

You can click here for a better look at the detail.