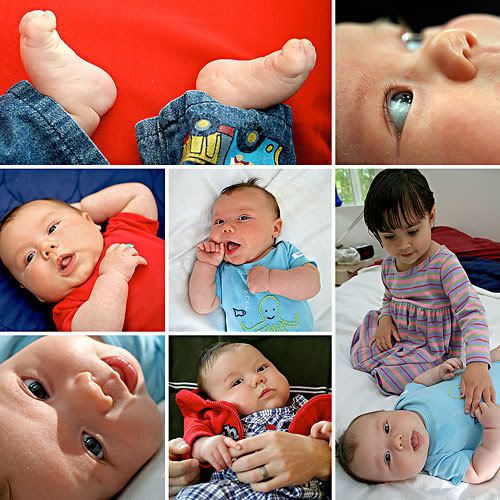 Well, here he is: Avery Daya, my new little nephewical bundle of joy.
Over the course of two photo shoots – and several impromptu snaps in between –
altogether approximately 200 shots total, ­ I gathered a pretty decent
collection of photographs of Avery that I now have at my disposal for
sending to family and for my own keeping. In these shots, Avery is nine
weeks old and a very good model, always curious and eyes-on with the camera.
During our visit he was quiet, content (even while snorting like a piggie
due to a wee head cold).
For some of these shots I had the added benefit of my sister's Canon EF-S
60mm USM macro lens (which I now love, and please buy me one – yes, I'm
talking to you).
Amazingly, it was only around Halloween of 2004 that I did a near-identical photo
shoot of Avery's sister Cadence ­ then six weeks old ­ on the very same bed.
Only I was using a hand-me-down Minolta Maxxim 400si and two rolls of llford
black-and-white film. I treated each shot so carefully, lest I blow a
precious frame of film. And after the negatives were developed, it seemed I
spent an eternity scanning each picture and rubber-stamping the inevitable
scratch marks that came with the process.
Jebus, bless the digital camera!