So allow me, this one time, to be bloggy and answer a chain-letteresque pass-along series of questions from my friend Maria, who – bless her – resurrected her own site just days ago. However, in the spirit of being difficult and lazy and it being a hot summer weekend and all, I'm going to halt the chain here.



What was I doing ten years ago?



To the day practically, I was graduating – with honours, betta recognize – from the graphic design program, then known as Advertising Art, at Red River College. At the ceremony, I was planning to ask this girl from another program I liked to go out sometime, but she ditched the graduation and I had to cold-call her a week or so later. We're now married.

What are five things on my to-do list for today?*



*Note: I wrote this yesterday.





•

eat Shreddies (done).


•

design an ad of company merchandise (done).


•

freak out over cankerworms (ongoing).


•

attend a baseball game, weather permitting (done).


•

this thing – what I'm doing right now (done).



What snacks do I enjoy?



Are you kidding me? Brownies. Compared to brownies, everything else is a pile of puke. But if there's a gun to my head...



•

Miss Vickie's sweet chili & sour cream chips


•

Ritter Sport (any kind with whole nuts in 'em)


•

hot fudge sundaes, with peanuts


•

Wagon Wheels


•

baby carrots


•

monster cookies


•

Corn Pops


•

brownies with ice cream



What would I do if I were a billionaire?



Much. But this is as good a time as any to state, for the record, that I would like to go into outer space – and I think that, as a billionaire, I could achieve that goal. Kerry says that outer space would be boring, that after she did a couple summersaults and squeezed out a tube of toothpaste in zero gravity, there wouldn't be much else to do (and

she's

the poet). Me? I'd have my face pasted to the window, watching the earth like a TV. For the record, is all.

Where have I lived?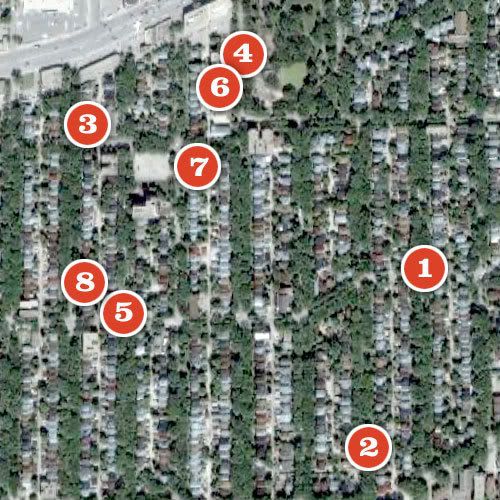 Figure 1:

where I have lived.





•

Kitchener, Ontario


•

On my aunt and uncle's farm, near MacGregor, Manitoba


•

Winnipeg, Manitoba – eight addresses within a seven block radius, over 25 years

(see figure 1)





What jobs have I held?



Ahh, a natural progression...



•

paperboy/paperteen


•

drug-runner/cashier/mop-monkey/pharmacist-helper-dude/bookkeeper


•

graphic designer