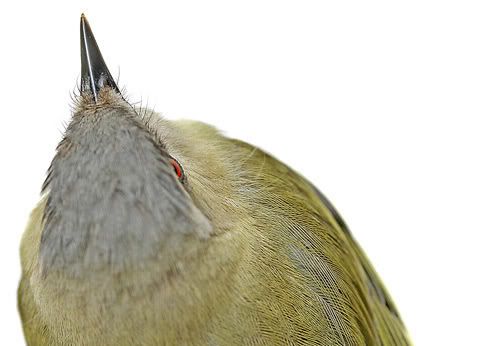 More creative fallout from my visit east. My sister's house is smack in the middle of the Nova Scotia interior, nestled in mixed woods on the shores of a long, slender lake. Beavers. Loons. Blackflies. Hooting owls at night. It's the great outdoors.
And so, for Photo Friday to offer up their current theme of

the great outdoors

, I have to admit this one pretty much fell right into my lap – much like this poor red-eyed vireo nearly did, dazed as it was sitting on the deck following a window-strike. Torn between leaving the little guy be and using the opportunity to again play with my sister's macro lens ... I chose the latter.

Not known for flashy displays of colour, members of the drab green vireo family can be hard to distinguish from one another. This one is likely the most ubiquitous, easy to spot with its blood-red eye (if you can get close enough to see it) and nonstop, day-long singing. Getting as close as I did for my shots, often lying on my belly while the bird regained full consciousness, I caught a good glimpse of the bird's textural and tonal subtleties. Because the deck was so bright, I was easily able to dodge out the wooden tones to create the stark, white background. I really like these shots – I combined the two here for my current desktop display at work. Click here, and here, respectively, for a better look at the feather detail.