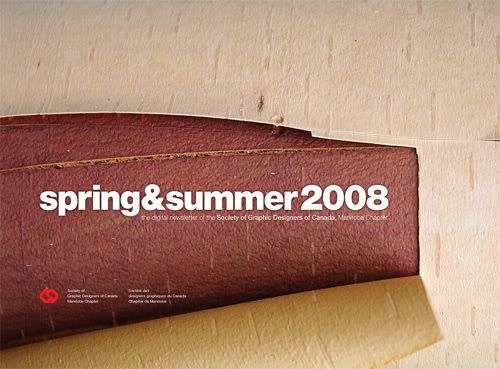 I've just completed my second issue of the Manitoba chapter's Society of Graphic Designers of Canada (GDC) e-newsletter. One of my primary aims of joining the all-volunteer chapter executive as communications chair was to attempt to reconnect with the local graphic design community after years of working far outside its realm (geographically, and to a lesser extent 'spiritually', for lack of a better word). And with the aid of these newsletters I'm gradually doing that. This issue, far more than the previous one, was a great example of engaging chapter membership for content submissions, then donning the editor's cap to build a cohesive single file. And with a template now in place following the inaugural issue, far less time was spent in the design stage. Hopefully as time progresses, these newsletters will continue to inspire and improve – and with luck (and news), another one will come along around Christmas.

Sorry – I can't believe I just mentioned Christmas. But in the meantime, click here to download yourself a copy of the spring/summer Manitoba chapter e-newsletter.

Note:

I took the cover photograph of a vandalized birch tree last summer while camping near Flin Flon (the photo was then rotated 90 degrees).