I've been tinkering with a number of photos I took or had developed recently. I got a new Canon EOS Digital Rebel XT for my birthday, which I'm very excited about. If anything – and anyone with a digital camera will tell you this – it gives me the opportunity to now make hundreds upon hundreds of mistakes without the guilt of wasting film. And by default, hopefully learn.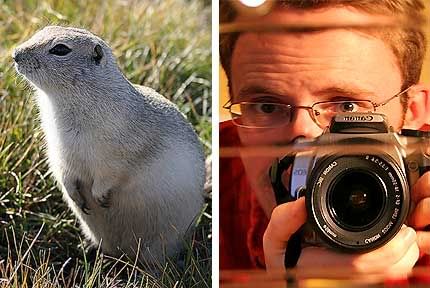 Above: One of the first things I did with it was take it to work to see the ground squirrels, who are more than tame and tolerant enough of people to sit dumb and still while they get their picture taken. This

fat fella

(left) was one of the last remaining above-ground critters around when I walked past their colony a few weeks ago. This other timid creature (right) was caught in a

self-portrait

, reflected off the front of his G4.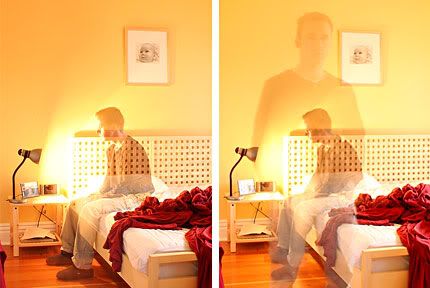 Playing with the camera's 'time-value' mode, I took a series of these ghostly shots using the timer function. These were 25-second exposures. That's

me and me

, and

me

, contemplating putting new sheets on the bed.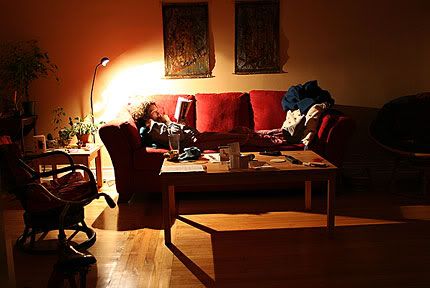 Kerry reading her book on the couch

we bought a couple of weeks ago. It's called Wendy. It's red and cushy. Really ties the room together.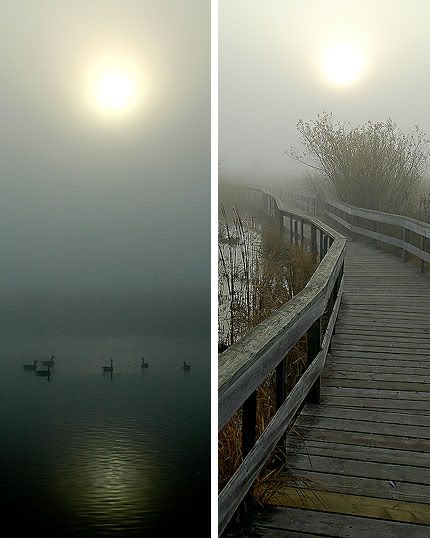 These two photos of

thick morning fog

were taken at work almost a month ago with the department's Nikon D70. This happens a few times each fall at the marsh, and it's absolutely magical when it happens. The geese didn't even know I was there.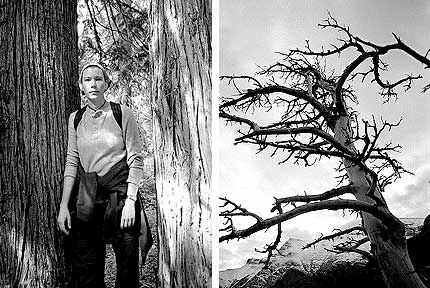 I finally sifted through the roll of black-and-white film I took on our holiday in the Rockies. I popped it in the camera when the weather turned lousy to take some mood shots, but most of them didn't turn out that well. This

dead tree

(right) on Sun Point in Montana's Glacier National Park was a find. Kerry posed for me between

two giant cedars

(left) on a trail near Fernie, B.C.