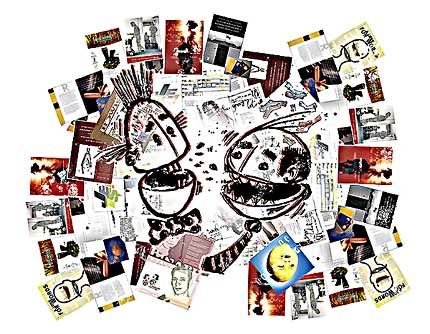 These two disembodied, broken heads equally represent Illustration Friday's theme-o-the-week –

broken

– and a so-simple-it's-brilliant project by Oregon creative everything Von Glitschka: the

Doodle Archive

. Mr. Glitschka's always-thinking head is in the process of creating a website that will archive doodles submitted by folks from all ages, skills and walks of life.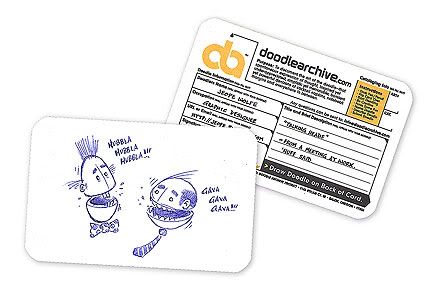 For the record, my doodle (above) was inspired by one of my department's multi-hour, mind-numbing and rarely relevant meetings which, until the day I started Jeopopolis, was my sole outlet for anything remotely off-the-cusp creative. These sessions are frequently dominated by talking heads, such as these two blokes. So in honour of the art of doodling, I managed to pry the black Pigma Micron 01 pen from my cold, undead hand in exchange for a more doodle-friendly Bic ballpoint (shudder!). And it took all of five minutes to do.
Then to incorporate the doodle with the broken theme, I crafted this Photoshop montage, which takes the concept of these talking-head types and merges it with an indisputable fact of life for the vast majority of graphic designers: these people are a major obstacle between cool, quality work and the means to have it shown to the world. They represent the finicky client, the micromanager, the board of directors, the boss's wife. Here they're literally chewing it up, leaving in their wake a big ol' void of

bluh

. Click here for a slightly larger view of the montage.
Side note:

If you're wondering how to get yourself some of this sweet Doodle Archive action, head over to its under-construction homepage and follow the instructions to request a card like the one in the photo above. And if it's inspiration you seek, check out Mr. Glitschka himself and get lost in his one, two, three amazing websites.