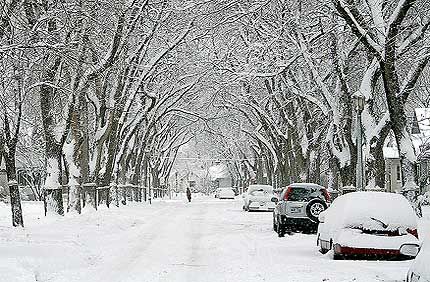 The view on Garfield Street, Winnipeg (Nov. 15, 2005).
Last week's snowstorm afforded me my first opportunity ever to 1) borrow a neighbour's shovel, and 2) build a snowman in my front yard – the latter being somewhat more of a personal highlight than the former. Our snowman's lifespan left a little to be desired: built at noon, wilting by three and dead on the ground by the time we came back from Kerry's parents place after dinner. He was a bizarre crossbreed, created from Kerry's desire to go all-natural – using dead foliage from our flowerbeds – and me wanting to use found basement objects, which consisted of a leftover scrap of dryer ventilation duct.
Here's a pic of Kerry and the big snowy papi we built on Sunday. We never even got the chance to name it.